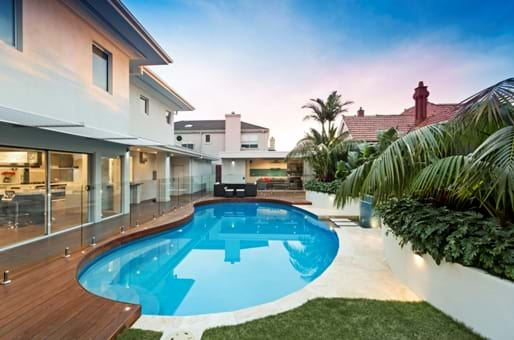 Residential Landscape Construction Under $100,000
Sponsored by: Bam Stone
Winner: Franklin Landscape & Design - Brighton project

Judge's Comments:
"Franklin Landscapes have shown innovative techniques whilst delivering a polished project. The curved retaining walls and perfectly curved decking around the pool have transformed this tired backyard into a resort with thriving green life surrounds.
It is a slick, sleek and stylish landscape that combines practicality and functionality with a harmonious designer edge, and is an excellent example of how an aging pool can be renovated, modified and integrated into a modern landscape that serves to complete and connect the renovated home.
In a very closely fought category, the winner was decided by a very narrow margin. In the end it came down to superior detailing in all hard elements, with a plant design that showcased how a lush, tropical feeling garden can be successfully achieved in Melbourne with the right plant selection."