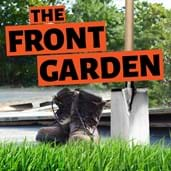 Hosted by Landscaping Victoria Members Tyson Owen from Signature Landscapes and Chris Weiss from Formation Landscapes, The Front Garden is a podcast from Landscaping Victoria covering the latest in landscaping, news trends and stories from people within the industry to make your landscaping career a little easier.
Don't forget to Subscribe, Tune in via Spotify, Apple Podcasts, Overcast (& more) during your drive time.
if you got a burning question or something you'd like Chris and Tyson to chat about on our next season of The Front Garden Send us an email on tfg@landscapingvictoria.com.au
SEASON 1
With sincere thanks for their support of a brand new initiative, the first season of The Front Garden has been brought to you by StrathAyr Instant Lawn the home of 'World Class Grass'.
The first season comprised of an interesting mix of Landscaping Industry professionals who shared their expertise, experience, journeys and highs & lows throughout their landscaping career.

Episode 1 - Adam Hompas, Adam Hompas Landscapes
Episode 2 - Tyson Owen, Signature Landscapes
Episode 3 - Chris Keay, Landscape Plus
Episode 4 - Bruce Winstanley, Winstanley Landscapes
Episode 5 - Ineke Clark, Ambition Consultants
Episode 6 - Dave Jarman, Coolabah Building & Landscape Construction
Episode 7 - Shah Turner, Pitch Box
Episode 8 - Andrew Grasby, Super Gardens
Episode 9 - Lisa Ellis, Lisa Ellis Gardens
Episode 10 - Chris Weiss & Tyson Owen - Formation Landscapes | Signature Landscapes